History of Chinese Chicken Salad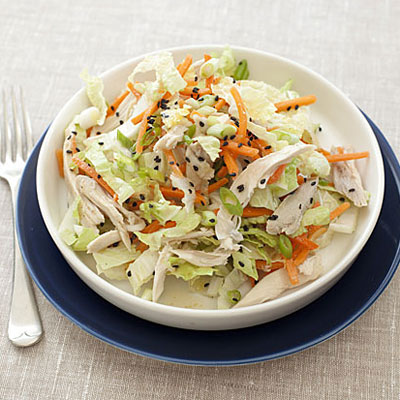 The Case of Chinese Chicken Salad
Sylvia Lovegren wrote "Whatever its provenance, Chinese chicken salad, which was all the rage in the mid to late 1970's, has virtually disappeared from restaurant menus." (Fashionable Food, 1995, p.109). Today, Chinese chicken salad can be found on the menus of California Pizza Kitchen, Cheesecake Factory, Mimi's Café, Claim Jumper, Factor's Famous Delicatessen, Pei Wei, Carrow's, Togo's, Daily Grill, Wolfgang Puck Express and Chin Chin, to name but a few restaurants carrying the dish. Wolfgang Puck's Chinois still serves Chinese chicken salad, listing it as one of the restaurant's classic items. Wendy's calls its version Mandarin chicken salad. P. F. Chang claims its Oriental chicken salad derives from Cecilia Chiang who claimed to invent it at the Mandarin Restaurant.
Chinese chicken salad, Caesar salad and Cobb salad are the big three salads that define the importance of Hollywood celebrity. Caesar salad was created by Caesar Cardini in the 1920's and became the signature salad belonging to the Hollywood movie community. Bob Cobb created the salad bearing his name at the Brown Derby for Sid Grauman. Grauman, and, later, other Hollywood celebrities, kept asking for Cobb's salad and the word spread. Before the decade ended, Cobb salad was on the menu at the Drake Hotel in Chicago.
Okay, so Lovegren's obituary was premature.
Caesar Cardini invented Caesar salad. Bob Cobb invented Cobb salad. So, who invented Chinese chicken salad? And when?
Wolfgang Puck created Chinese chicken salad. No, it was Madame Wu who created Chinese chicken salad. No, Madame Wong created it. Or was it Wallace Tom? Or, maybe, Cecilia Chiang? Did Johnny Kan invent Chinese chicken salad? Or, perhaps, there's another suspect lurking in the background.
Wolfgang Puck opened Chinois, his second restaurant, in 1983. The version of Chinese chicken salad created at Chinois is famous throughout America. Twenty-five years later, it is still on the Chinois menu, listed as one of the restaurant's classic dishes. Chinois chicken salad, thanks to the Food Network and the Wolfgang Puck Express chain, is probably the most famous interpretation of Chinese chicken salad (There are two Chinois recipes, one displayed on Puck's website and the other demonstrated on the Food Network). But, even if Puck served Chinese chicken salad at Ma Maison in 1975, he wouldn't have been the originator of the dish. Chinese chicken salad was popular at least a decade before that.
On Ninth Street near Main Street in Los Angeles is the New Moon Café. Originally, Wallace Tom operated his restaurant near Central Avenue from 1956 until he closed it in the 1990's. His son, Colin, reopened the restaurant a couple of years later at its current location. Open only until the middle of the afternoon, Chinese chicken salad was the New Moon Café's signature lunch dish. In a Chowhound blog, Zoe wrote,
When we had an office downtown in the early 80's we used to go to New Moon all the time for the chicken salad and crystal shrimp. The chicken salad was really great and the shrimp were huge in a pinkish slippery delicious sauce. We went to find the old restaurant a couple of years ago – I guess it is now part of the produce market now. Found the new location run by the old owner's son. Not quite the same menu because no crystal shrimp. The owner said that the cook who made it died and took the receipe (sic) with him and no one could replicate it. I loved the old place – but it's gone. (Zoe, Jun 30, 2004)
The Toms claimed, in 2002, that they were serving Chinese chicken salad at the New Moon Café on Ninth Street long before the celebrities were eating it on the westside of Los Angeles. On their New Moon Café website is recorded "We are widely recognized as the first family to introduce the Chinese Chicken Salad some 45 years ago!" This would place the New Moon Café claim to the mid 1960's.
Cecilia Chiang opened The Mandarin Restaurant in San Francisco in 1960. Born into an aristocratic Chinese family, she left her diplomat husband in Tokyo in 1960 and came to San Francisco to spend some time with her bereaved sister. Chiang had started and had been running a Chinese restaurant in Tokyo. Two friends from Japan were planning to open a restaurant on Polk Street in San Francisco. Because of her English language skills, she offered to help them negotiate a lease on the property and even put up $10,000 of her own money to secure the lease. Her friends backed out of the deal and Chiang was stuck because she couldn't get her money back.
Chiang went forward and opened The Mandarin featuring the foods of Beijing, Shanghai and northern China. It must be remembered that Chiang never trained as and was not a cook. Her aristocratic background placed her in the pantheon of Chinese gourmets who studied and commented on food. She was surely qualified to hire trained cooks and set them to preparing the 300 some dishes on her menu according to her tastes. Chiang's recipe for Chinese chicken salad, as well as that the dish was invented to use up leftover lettuce, is printed in her 2007 memoir, The Seventh Daughter. Her 1974 memoir, The Mandarin Way, contains her recipe "Mandarin Chicken Salad."
Chiang's Mandarin chicken salad bears a strong resemblance to the "Mandarin Salad" that Beatrice Foods Company published in 1949 to promote LaChoy products (The Art and Secrets of Chinese Cookery, Beatrice Foods Company, 1949, p. 25). Pagoda Chicken Salad is another LaChoy creation that bears a striking resemblance to Chinese Chicken Salad. The difference between the LaChoy recipes and those from the restauranteurs lies in the marinades and salad dressings. LaChoy's recipes marinate the meat in French dressing and use mayonnaise for the salad dressing. There is a copy of the LaChoy pamphlet that was published as early as 1935. It's possible that the Mandarin Salad and Pagoda Chicken Salad recipes are also printed in that earlier pamphlet.
The time frame makes it possible that Chinese chicken salad might have been created and served at The Mandarin restaurant. Chiang's claim might be supported if Chinese chicken salad was an item on an early 1960's Mandarin menu. The Mandarin Restaurant closed in 2006.
Larry Chu has been serving Chinese chicken salad at his Los Altos, California restaurant since he opened Chef Chu's nearly forty years ago. His food is consistently wonderful. His cooking classes have taught thousands of people about fine Chinese cuisine. Chu is among that small group of cooks who expanded America's love of and appreciation for Chinese food beyond mid-twentieth century chop suey. But he never claimed to invent Chinese chicken salad, nor did he invent it. Chinese chicken salad was being served well before Larry Chu applied his genius to the Chinese food scene in America.
Johnny Kan has been described as the person who introduced Peking duck and Chinese chicken salad. He was also credited with teaching Danny Kay how to cook Chinese food. Although he was known worldwide as a gourmet restauranteur and good friend of James Beard, no restaurant menu from his restaurant could be found that offered Chinese chicken salad earlier than the 1970's. Since Kan was determined to serve the most authentic Chinese dishes in his restaurant (he refused to serve chow mein, chop suey or coffee) and since traditional Chinese dishes do not utilize raw vegetables, it is unlikely that Kan's restaurant would have served Chinese chicken salad prior to the 1970's or even the 1980's when competition for the tourist dollar in San Francisco's Chinatown became intense.
Elaine Johnson, in a Sunset Magazine article (June, 2001) wrote
Sunset's first recipe for Chinese chicken salad, published in 1970, came from Ming's of Palo Alto. Former owner Dan Lee reports that the restaurant started serving the top-selling dish sometime between 1958 and 1960. "We based it on a Chinese dish called finger-shredded chicken," he recalls.
If a Ming's menu from 1958 to 1960 exists, showing Chinese chicken salad being offered, then Ming's has a valid claim as an originator of the dish. No such menu has, thus far, been presented. That Sunset Magazine's 1970 recipe derives from the recipe of Ming's of Palo Alto certainly places the creation of Ming's version of Chinese chicken salad to well before 1970.
However, Jerry Anne De Vecchio wrote in an earlier issue of Sunset Magazine (July, 1995)
Curious, I looked through back issues of Sunset to see how this salad has evolved. The first recipe dates to 1957, and over the years we toyed with variations until publishing our most-requested version, from Ming's Restaurant in Palo Alto, California, in November 1970. It was distinguished by fried cellophane noodles that exploded into puffy wisps.
So, here we have solid documentation that pushes Chinese chicken salad recipes back to 1957. Anyone making a serious claim to inventing Chinese chicken salad must demonstrate either that she is the author of the 1957 Sunset Magazine recipe or that her recipe was printed or served to the public prior to 1957.
In her 1977 book, The Key to Chinese Cooking, Irene Kuo discusses the northern Chinese school of cooking in which hot mustard is blended with other ingredients to make a sauce. The recipe for the sauce that she provides is so reminiscent of the Chinese chicken salad dressing that it makes one suspect that Chinese chicken salad vinaigrette was derived from the northern Chinese dish called Chicken in Mustard Sauce.
Winona Chang provides two recipes, Chicken Salad a la Chang and Salad a la Chang in her book An Encyclopedia of Chinese Food and Cooking (with coauthors Irving Chang and Helene and Austin Kutscher). The second recipe dresses the salad with a mustard-flavored vinaigrette of her own design. The first recipe incorporates fresh shredded lettuce. If the lettuce-based salad was dressed with the mustard vinaigrette, this would be recognized as Chinese chicken salad. The encyclopedia bears a copyright date of 1952, making Chang's recipes, if not the original Chinese chicken salad, the basis for modern Chinese chicken salad.
Madame Wong and Madame Wu. S. T. Ting Wong lived to be 103 years old. She taught Chinese cooking for forty years in Shanghai, New York and Los Angeles. Her cooking classes at the UCLA Extension program were always packed and made her a legend. Her students would sign up early for the next term's courses making it virtually impossible for a new student to enroll in her classes. Wong's former students included Barbara Streisand, Michael Caine, Dinah Shore, Linda Evans, Debbie Reynolds, and Wolfgang Puck. She is supposed to have taught Puck how to make crispy duck at his restaurant Chinois. She wrote two books, Madame Wong's Long-Life Chinese Cookbook and More Long-Life Cooking from Madame Wong. Madame Wong's version of Chinese chicken salad uses deep-fried rice noodles and sweet red pickled ginger. At Madame Wong's restaurant in Westwood Village, during the 1960's, you could eat Chinese food and listen to rock music.
Sylvia Wu opened Madame Wu's Garden in 1959. She closed the restaurant and retired early in 1998. During that time her restaurant was acclaimed in the 1980's as the best Chinese restaurant in America. Her blend of Cantonese-Mandarin cuisine served in an exotic and elegant dining room attracted Hollywood's celebrities in droves. In turn, the regular presence of the likes of Cary Grant, Bob Hope, Johnny Carson, Dinah Shore and Mae West insured that the fans would flock to the restaurant. Once they ate Wu's food, it was hard not to return again and again.
Madame Wu, regarding the creation of Chinese chicken salad, explained that, one day, Cary Grant came to her restaurant for lunch. He wanted to eat a salad like one he had tasted at another restaurant. She made a salad for him and, over a period of time, she modified and adjusted the salad's contents and dressing until Grant was satisfied. The final result became Madame Wu's Chinese chicken salad.
Salads were "Hollywood" in mid twentieth century! The movie stars were convinced that they were great, tasty diet foods. Hundreds of articles describing what the stars ate were published in fan magazines. The popularity of salads spread widely across America. This was how Caesar salad, Cobb salad and Chinese chicken salad achieved their iconic status in American culture. Madame Wu's version of Chinese chicken salad is probably the ancestor of the dozens or hundreds of interpretations that followed during the rest of the twentieth century. But I can't help but wonder if the salad that Cary Grant asked Sylvia Wu to imitate was prepared by Wallace Tom, in 1959, at the New Moon Café in downtown Los Angeles.
Nonetheless, the earliest recipe I could find for anything strongly resembling Chinese chicken salad was the LaChoy recipe. So, I think LaChoy Foods should be credited with publishing the first Chinese chicken salad recipe, at least by 1949 and possibly as early as 1935, and for making it available to the homemaker. Credit should be given to Cary Grant for telling Sylvia Wu about the salad he probably ate at the New Moon Café. This chicken salad and Madame Wong's version were most likely the Chinese chicken salad recipes whose fame was spread by the Hollywood fan magazines. Johnny Kan may have thought he was the first to present Chinese chicken salad, but LaChoy and the housewives of America beat him to it.
Today, as a result of the Food Network, Wolfgang Puck's Chinois Chicken Salad with Mustard Vinaigrette (probably a modified version of Madame Wong's recipe) may be the most popular version of Chinese chicken salad made at home. Chinese chicken salad is featured at California Pizza Kitchen, Cheesecake Factory and P. F. Chang's, as well as a host of lesser known restaurants in America. It is served in restaurants around the world and rivals Caesar salad as America's contribution to the world of salads.
Pagoda Chicken Salad
(from The Art and Secrets of Chinese Cookery, 1949)
1 can LaChoy Bean Sprouts (drained well)
3 c chicken, cooked and diced
2 c celery, cut fine
1 c mayonnaise
¼ c French Dressing
½ c LaChoy Water Chestnuts, sliced thin
½ c green bell pepper, cut fine
1 t salt
pinch black pepper
Place bean sprouts, chicken and celery with the French dressing in a salad bowl and toss to mix well. Let chill for 15 minutes. Mix in mayonnaise. Arrange salad on lettuce leaves and garnish with thin slices of stuffed olives and water chestnuts.
Mandarin Salad
(from The Art and Secrets of Chinese Cookery, 1949)
2 c cold ham or veal, diced
1 can LaChoy Bean Sprouts
½ c sweet pickles, cut fine
¼ c onion, cut fine
¾ c mayonnaise
¼ c French Dressing
1 t salt
pinch pepper
1 t LaChoy Soy Sauce
Pour French dressing and LaChoy soy sauce over meat. Let marinate and chill for 30 minutes. Add well-drained bean sprouts, pickles, onions, salt and pepper to the meat. Mix mayonnaise in lightly. Serve on crisp lettuce leaves.
Tossed Shredded Chicken Salad
(from Madame Wu's Art of Chinese Cooking)
Serves 4
2 qts vegetable oil
8 squares wonton sheets, cut into 1/8-inch strips
1/3 package rice noodles
½ head iceberg lettuce, shredded and made into a bed on a platter
2 c cooked, shredded chicken
1 t liquid mustard
¼ t five-spice powder (optional)
1 t sesame oil
3 T toasted almonds, chopped fine
½ c thinly sliced scallions, white part only
½ t salt
Pour the vegetable oil into a deep-fryer or a deep heavy-bottomed pot and heat to 350oF. Fry the wonton strips to a light tan color. Remove from oil and drain on paper towels.
Divide the rice noodles into three portions. Drop each portion of noodles into the hot oil, one portion at a time, and as soon as they puff up, scoop the noodles out of the oil and drain on paper towels.
Put the chicken meat in a bowl. Add the mustard, five-spice powder, sesame oil, almonds, scallion and salt and toss to mix well.
Pile the salad onto the bed of lettuce and serve.
Coriander Chicken Salad
(from Johnny Kan's Eight Immortal Flavors)
Makes 4 servings
1 whole 4½ to 5 pound roasting chicken
1 T hot mustard
1 T toasted sesame seeds
1 bunch scallion, white part only shredded finely
1 bunch cilantro, stems removed
½ t monosodium glutamate (MSG)
½ t salt
½ t sugar
½ head shredded lettuce
Deep-fry the chicken in vegetable oil until cooked through. Drain on paper towel and let cool enough to handle. Strip off the meat into fine shreds with your hands.
Mix the chicken shreds with the mustard and then add in the sesame seeds and cilantro and mix well. Add MSG, salt and sugar and mix well.
Make a bed of shredded lettuce on a serving platter. Pile the chicken salad on top of the lettuce. Garnish with additional cilantro leaves and serve.
Chicken Salad with Rice Sticks
(from Madame Wong's Long-Life Chinese Cookbook)
Makes 2 dinner servings or 4 appetizer servings
4 oz rice sticks (mai fun)
Vegetable oil for deep-frying
1 chicken breast
½ t salt
2 T soy sauce
1 head lettuce, shredded
preserved red ginger, chopped
½ c vegetable oil
¼ t salt
2 t sugar
½ c red wine vinegar
½ c soy sauce
2 scallions, chopped fine
1 t pepper oil (optional)
Deep-fry rice sticks in very hot oil until they puff up, about 1 second. Drain on paper towels.
Rub chicken with salt and soy sauce. Place in shallow pan. Pour 1 tablespoon heated oil over chicken. Roast 45 minutes in 350oF. oven. Remove chicken from oven and let cool enough to handle. Discard any skin and bones and break meat apart into shreds.
Combine ½ cup oil, ¼ teaspoon salt, sugar, vinegar and ½ cup soy sauce in a large bowl and mix well until salt and sugar dissolve. Add scallions and, if you want the sauce to be spicy, add the pepper oil.
Add the shredded chicken and lettuce to the bowl and toss to fully coat everything. Place the dressed chicken and lettuce on a serving platter and scatter red ginger on top. Crush the puffed rice sticks and distribute over the chicken and lettuce and serve.
Chinois Chicken Salad
(from WolfgangPuck.com)
Makes 2 entrée portions or 4 starter portions
2 t dry Chinese or English (Coleman's) mustard
¼ c rice vinegar
1 t soy sauce
2 T sesame oil
2 T peanut oil
salt
freshly ground black pepper
1 3 pound chicken, cavity filled with finely diced celery, carrot, onion, garlic, bay leaf, thyme, salt and pepper
2 oz unsalted butter, melted
2 small heads or 1 medium head Napa cabbage
1 c romaine lettuce, cut into 1/4 inch julienne strips
10 snow peas cut into 1/4 inch julienne strips
1 T sesame seeds, toasted
Prepare the vinaigrette. Place all the vinaigrette ingredients, except peanut oil, in a blender and blend until smooth. Add peanut oil slowly and correct the seasonings.
Preheat the oven to 425 degrees F.
Place the chicken on a rack in a roasting pan and baste it with some of the butter. Roast for about 1½ hours, or until just done. (The juices should run clear.) Baste every 15 or 20 minutes with the butter and the drippings.
Select 4 to 8 nice looking leaves from the Napa cabbage and reserve them. Slice the remaining cabbage into 1/4 inch julienne strips.
Shred the meat from the breasts and thighs of the chicken. Combine the chicken, cabbage, romaine and snow peas in a bowl and toss with enough vinaigrette to coat the salad nicely. Sprinkle with sesame seeds after portioning salad out.
Chinois Chicken Salad with Chinese Mustard Vinaigrette
(from a Food Network Show by Wolfgang Puck)
Makes 4 servings
2 chicken breasts, bone-in with skin
salt
freshly ground black pepper
2 T peanut oil
1 head Napa cabbage
1 head romaine lettuce
1 head radicchio
1 c up chopped roasted peanuts
cilantro sprigs
lime wedges
Chinese Vinaigrette, recipe follows
Fried Springroll Baskets and Strips, recipe follows
Preheat the oven to 450 degrees F.
Season the chicken breast on both sides with salt and pepper. Heat a large sauté pan over high heat. When the pan is hot, add the oil and heat to almost smoking. Add the chicken, skin side down and cook for 4 minutes. The skin should be golden brown. Turn the chicken over and place in the oven. Roast until the chicken is just cooked through and the juices run clear, about 15 to 20 minutes.
While the chicken is in the oven, prepare the greens. Fill a very large bowl halfway full with ice water. Quarter the Napa cabbage lengthwise and remove the core. Thinly slice the cabbage widthwise and place in the ice water. Repeat this same process for the radicchio. Halve the romaine lettuce lengthwise and then thinly slice. Add to the water. Mix all of the greens well in the ice water and let sit for about 5 minutes. Drain. Place in a clean kitchen towel and dry well. Be careful not to bruise the greens. Refrigerate.
Remove the chicken from the oven and cool enough to handle. Remove the skin and slice the chicken. Discard the skin and bones. Roughly chop the sliced chicken and place in a large bowl. The chicken should still be warm. Add some of the vinaigrette and toss well. Add the greens and a little more vinaigrette and toss until everything is well coated.
Place a small mound of greens on 4 plates. Top each mound with a spring roll basket and lightly press to stabilize. Fill the baskets with more of the salad. Top with some of the fried springroll strips, a sprig of cilantro, peanuts, and a lime wedge.
Chinese Mustard Vinaigrette:
1 egg yolk
2 t dry Chinese mustard
¼ c rice wine vinegar
1 t soy sauce
2 T sesame oil
3 T peanut oil
salt
freshly ground black pepper
1½ T honey
Place all of the vinaigrette ingredients in a blender and blend until smooth. Correct the seasonings. Refrigerate until ready to use.
Fried Springroll Baskets and Strips:
large square eggroll wrappers
peanut oil
Heat a deep fryer to 375o F. or fill a deep pot halfway full with oil and heat to 375o F.
Roll up 2 of the egg roll wrappers and julienne. Set aside.
Place 1 of the remaining wrappers in the hot oil for 5 seconds to soften. Then, carefully push the center of the wrapper down with a ladle. Fry just until the oil stops sizzling, about 15 to 30 seconds. The basket should be golden brown. Remove with tongs to a paper towel lined plate to drain. Repeat with the remaining 3 wrappers.
Once all of the baskets are made, add the julienne strips and fry just until the oil stops sizzling and the strips are golden brown, about 30 seconds. Remove with a slotted spoon and drain on paper towels.
Source:
1. Chinese Chicken Salad – Real American Food — The Delicious Life
2. Foods Combining Diet
3. The history of chicken salad | Willow Tree Farm | Chicken Scratch Blog

Image Credit
img2.timeinc.net
---